AFib is associated with a 5x greater risk of stroke, however with effective treatment, the risk of stroke can be reduced
Screening for atrial fibrillation to reduce the risk of stroke
Atrial Fibrillation
AFib is associated with a 5x greater risk of stroke, however with effective treatment, the risk of stroke can be reduced¹. The lifetime risk for AFib is 1 in 3 individuals² and it often occurs with hypertension. Early detection is key, to allow for prompt and satisfactory disease management to not only control symptoms but also to prevent further complications.² Opportunistic screening for AFib is recommended in hypertensive patients. Definite diagnosis of AFib in screen-positive cases is established only after physician reviews the single-lead ECG recording of ≥30s or 12-lead ECG and confirms that it shows AFib. According to the 2020 ESC/ESH medical guidelines on AFib¹.
Screening
Screening can also highlight cases of known suboptimal managed AFib. According to recent studies, intermittent ECG recording increased new AF detection four-fold. Next to this, both systematic and opportunistic screening are more cost-effective than routine practice for patients ≥ 65 years. However, appropriate patient information is needed to motivate and reduce anxiety in patients for screening². Try engaging with your patients at risk, by helping them with home ECG monitoring.
Learn more at OMRON Academy
What are the benefits for your patients when monitoring their ECG at home?
Predicts CV morbidity and mortality better than office-based BP monitoring.⁴
Helps patients to better understand the importance of monitoring.
Multiple readings are possible over an extended period of time
Detects increased heart rate variability
There are several comorbidities, which could indicate a predisposition for AFib. Perhaps you recognise some of these patients at your clinic?
Patients at risk for Atrial Fibrillation
Meet Karl: Karl is a 48 year old teacher, he has smoked since he was in his early 20s and enjoys his wine. Sometimes a little too much. As a man (incidence of AFib is slightly higher in males), a smoker, and someone who has been known to habitually drink alcohol in excess, Karl could be at risk of AFib and might benefit from being assessed³
Meet Katia
Katia is a 68 year old retired pre-school nursery practitioner.
She is also a mother and a grandmother. Katia has been diagnosed with chronic kidney disease (CKD) and type 2 diabetes, for which she is receiving treatment. It's possible that both diseases could predispose Katia to developing AFib. So, she could benefit from being assessed at regular intervals
Meet Dirk
Dirk is a 33 year old businessman
He has recently been diagnosed with dyslipidemia, which is currently untreated as his doctor has initially advised him to make some diet and lifestyle changes while his cholesterol levels are monitored. He is also obese, with a BMI of 32.¹ Dirk's high cholesterol and obesity are both triggers and predisposing factors for the appearance of AFib.³
OMRON Complete: 2-in-1 home upper arm blood pressure monitor with single-lead ECG.
Help your patients easily and accurately screen at home
OMRON Complete is an accurate and easy to use blood pressure monitor with ECG recording, it records measurements, and tracks data. Features of this device and benefits for your patients include: Single-lead ECG taken with regular blood pressure checks. Easily makes regular monitoring part of a daily routine, with clear instantaneous results to accurately track progress.  OMRON connect - intuitive dashboard provides a quick overview of blood pressure and 1-lead ECG patterns which can easily be shared with a doctor
Read more
OMRON Complete
Benefits of monitoring ECG at home
OMRON Complete: 2-1 one upper arm blood pressure monitor with single-lead ECG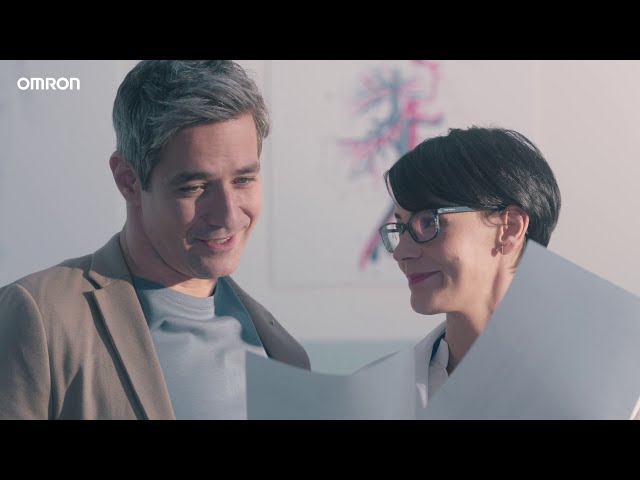 For Healthcare Professionals
Related recorded webinars and symposiums
View all
OMRON Academy - Related courses
Early detection of a cardiac disorder can save lives. Learn more on OMRON Academy Online about Heart Failure, types of ECG leads and home blood pressure monitoring.
View all courses
View all courses
References:
1 Balanis T, Sanner B. Detection of Atrial Fibrillation Using a Home Blood Pressure Monitor. Vasc Health Risk Manag. 2021;17:407-414 4
2 Hindricks G. et al. ''2020 ESC Guidelines for the diagnosis and management of atrial fibrillation developed in collaboration with the European Association of Cardio-Thoracic Surgery (EACTS). '' European Heart Journal (2020) 00, 1-126.
3 Naser, N. et al. (2017). The Impact of Risk Factors and Comorbidities on The Incidence of Atrial Fibrillation. Materia Socio Medica, 29(4), p.231.
4 George, J. and MacDonald, T. (2015). Home Blood Pressure Monitoring. European Cardiology Review, 10(2), p.95.
5 Breaux-Shropshire, T. et al. (2015). Does home blood pressure monitoring improve patient outcomes? A systematic review comparing home and ambulatory blood pressure monitoring on blood pressure control and patient outcomes. Integrated Blood Pressure Control, p.43